I went jeans shopping the other day, I really was in need of a new pair.
I tried on several pairs of skinny jeans, after swearing them off.
After the 10th pair I was feeling rather depressed and reminded myself over and over again why I will never wear skinny jeans... they just aren't for me, though I think the style is cute with big sweaters and boots and all.
I also can't justify buying new boots right now, with it being in the 70's and such.
SO, after a day of shopping, on a whim I said "lets just look in Rue21", Afterall, I purchased a pair of jeans there last year and they are my favorites... why it takes all day for me to remember this, I can't recall. *wink*.
I go into Rue21, find almost the exact jeans I already own and walk up to the checkout counter.....
"All jeans are buy one, get on 50% off... did you want to get another pair?" The lady at checkout says
Why, YES! Yes, I would love another pair of jeans for... TEN BUCKS!
And so, here are my $10 jeans....
Sunglasses [TJ Maxx]
Sweater *new* [Target... on Sale!]
Organic Cotton Ruffle Scarf *new* [SoChick!]
Jeans *new*[TEN BUCKS Rue21]
Gray Flats [Walmart, a long time ago]
I really love this outfit, and that my husband complimented me on how nice it looked. Awwww.
P.S.- I would love for you to follow my
SoChick Facebook Page
... I have something exciting planned for this weekend and will be announcing it tomorrow!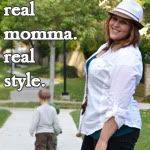 XxOo~
Melissa